O'Connell Concrete
Concrete
We include GGBS (Ground Granulated Blastfurnace Slag) in the production of all our ready mix concrete. It is a by-product of iron production, therefore a recycled material. There are many advantages to the using GGBS in concrete production, for example it is significantly more durable for agricultural use, it has a longer life span, has a whiter finish and is better for the environment (www.ecocem.ie). Please see our additional information and advice for working with ready-mix concrete in the download section.
Concrete Delivery
We have a number of different concrete trucks
The 'Mini mixer' carries a maximum of 4 meters. Size: 23ft long x 8ft wide
There is a conveyor belt available with one of our trucks; this is only provided on request, subject to availability and additional costs. The conveyor mixer maximum load is 7 meters and the conveyor belt is a total of 11.5 meters in length
The 8 wheelers trucks are 31ft long x 8.5ft wide. Maximum carriage of 7.5 meters
Note
Please state if you require the conveyor when ordering concrete
Please contact us in due time when ordering concrete as truck availability can be limited
Concrete Dye
We also supply a range of coloured concrete dye which can be used for decretive purposes. If you require concrete dye please give a few days' notice when ordering as the specific colour may not be in stock at the time.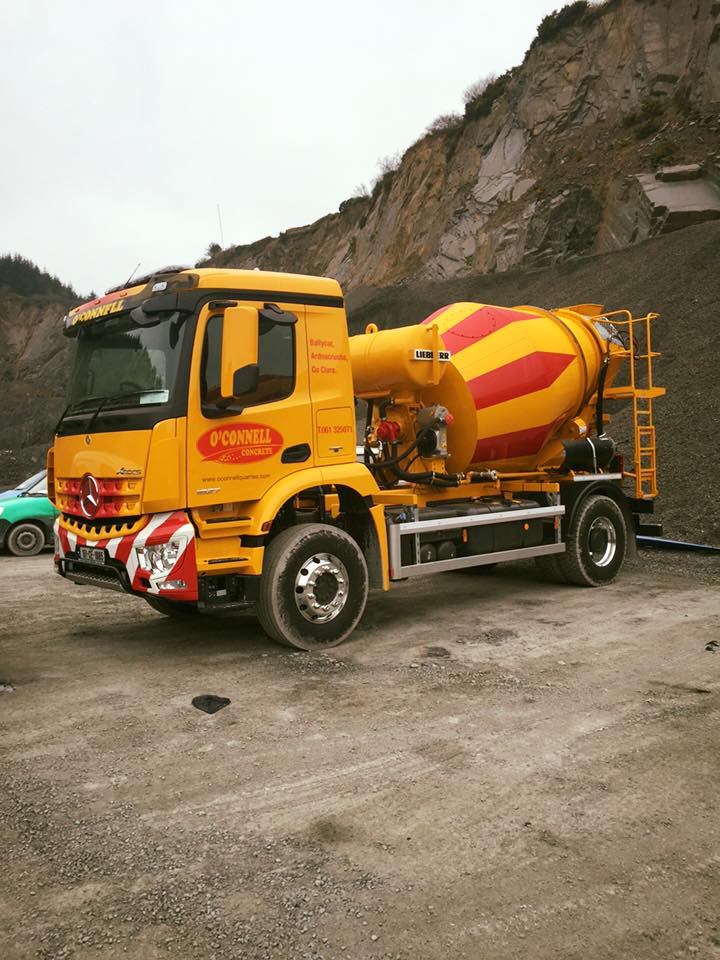 Cube
Length: (meters) Width: (meters) Depth: (meters)


Cylinder
Radius: (meters) Width:(meters)


Cone
Radius:(meters) Width:(meters)